A plan helps you to begin your online venture. A company allows you to do business legally. A website helps you to convert visitors into customers. Compliance software helps you to stay on the safe side of regulation. These four steps are fundamental. However, online and affiliate marketing is a competitive environment and subject to several external factors. Such factors may influence for example consumer behavior and algorithms of the search engines. To gain altitude and become a super success in affiliate marketing, you therefore need to focus on setting up a predictable system for online success.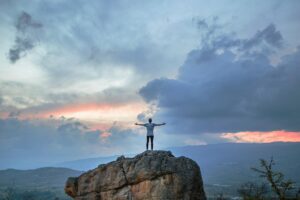 Selling is easy when the consumer is eager to buy the product being offered because he wants and needs it. Many affiliate marketers just offer a product without thinking much about the psychological barriers consumers need to cross before they actually make the purchase decision.
Human behavior is at the core of purchase decision. Therefore, affiliate marketers who study the psychology of decision making and act upon the results are most successful. Several marketing and peak performance coaches have identified steps people use to make decisions. These steps can be extremely helpful for the novice online marketer willing to become successful. In the blog of this website, we discuss several of them.
Not every potential customer is ready, willing and able to make a purchase decision instantly. Consequently, the job of an affiliate marketer is to constantly guide potential customers to buy. Such can be done in a variety of ways. Over the years, many marketers have established effective and efficient ways to ensure a steady flow of prospects. The main ingredient of these working strategies is diversification. This powerful tool should not be underestimated because it ensures a constant flow of buyers leading to affiliate commissions.
Online marketing is not an effortless business. Many starting online marketers seek a passive income or even overnight riches. This, however, is not always guaranteed. Those who seek permanent income, should treat their online venture as a business. This requires structure and planning.